Media Report
EASTWEEK NO.359 7/14/2010 Exclusive Interview with Chairman of DPRK Secret Association

NAENARA NEWS 12/15/2009 Vice-President of SPA Presidium Meets KICC Delegation

Vol:05 No. 3 7/22/2011 Honarary President Kerri Zhou Interview By Spotlight Newsmagazine
──────────────────────────────────────────
EASTWEEK NO.359 7/14/2010

Exclusive Interview with Chairman of North Korean Secret Association To Make the World Know More about North Korea

The nuclear weapon crisis in North Korea has plagued Asia and other parts of the world for years. The sinking of the South Korean warship "Cheonan" under the attack of torpedoes from North America was particularly an alarming episode.

However, North Korea also knows the importance of learning more about enemies. A secret lobbying group, Korea International Chamber of Commerce was established in mid 2009. Rumors have it that Kim Jong Il assigned the spokesperson of this organization but in fact, this organization is chaired by Kerri Zhou.

In an exclusive interview, Kerri Zhou told us that this trade association can help to ease the tensions in the region and brings the world to learn more about North Korea. "Never in the history of North Korea sees the government allow for this kind of organizations. This is a step toward opening up."

We have an exclusive interview with Honorary President of Korea International Chamber of Commerce, Kerri Zhou and Vice Chairman Antonio Cheng in Beijing Hong Kong Horse Club. Next to her is Sir Eric Edward Hotung from Hong Kong. He is a member of a prestigious family in Hong Kong, Vice Chairman of Korea International Chamber of Commerce and a friend to North Korea.

When Mr. Bill Clinton, former President of the United States, went to North Korea to rescue two female journalists from the USA last year, some sources indicated that Sir Eric Edward Hotung and Kerri Zhou played an important role in the process.

"Regarding this event, Chairman Kim Jong II asked me to make a few clarifications. North Korea is a very special country. Its leaders never ask for help from others. The two female journalists indeed violated the laws of North Korea. There was nothing that North Korea should be afraid of," says Kerri Zhou in Mandarin, with a serious look.

According to Kerri Zhou, she believed that these two journalists should have a chance after she learned that they have been arrested. Therefore, with the permission from the North Korean government, she got in touch with Sir Eric Edward Hotung, asking him to contact the US government. They started the negotiations and finally, the two journalists were released. A diplomatic crisis was hence resolved.

"At that time, Korea International Chamber of Commerce was newly established. It was indeed a challenge for us," admits Kerri Zhou. She says that the organization deals more than just business issues. For example, the Taiwanese government does not have an official institution in Hong Kong. Chung Hwa Travel Service and Kwang Hwa Information and Culture Center become the contact windows for political and economic issues. However, they only function in Hong Kong. In contrast, Korea International Chamber of Commerce faces the whole world.
Consultant to Kim Jong Il
"Are you a North Korean? Why does Kim Jong II trust you so much?" asks our reporter directly. At this juncture, Kerri Zhou smiles and says, "I am a Singaporean. I speak Mandarin and English. As why Chairman Kim Jong Il trusts me, this is of course because I am very capable."
She says politely that she will not mention too much of her affiliation with North Korea. Some sources indicate that before she became the chairman of Korea International Chamber of Commerce, she has been an expert in international foreign policies, especially Asian affairs. She has assisted many countries in negotiations and discussions. The North Korean government trusts her very much. She can go and leave freely, and even speak directly to the right-hand man of Kim Jong Il over the phone. She is in essence a consultant to the North Korean government.
The reporter asks the questions concerning the South Korean warship "Cheonan", the timing of the reopening of six-party negotiations and the successor to the current leader in North Korea. Kerri Zhou says, "You are asking what BBD and CNN are asking every day. All that I can say is that Chairman Kim Jong Il has chosen his successor. The name will be released to the world soon."
A Step toward Opening
Kerri Zhou indicates that the history of North Korea is full of wars and revolutions, large or small. It is a history of frustration and suffering. During the Qing Dynasty, it was a dependent state and had no independence in foreign policies. During the Second World War, it was evaded by Japan. Japan recruited military staff in Korea and all the Korean soldiers were sent to the frontline. The casualty was heavy. This is why the government and the people take on a harsh attitude in the face of foreigners. They do not even proactively accept donations. This is why other countries do not understand them and mistake North Korea for not being able to communicate. However, this is far from the truth.span>

"If the North Korean government simply is simply being difficult, it would not have allowed the formation of Korea International Chamber of Commerce. You know, never in the history has the North Korean government seen such an organization. This is a step toward opening", says Kerri Zhou. "It is not North Korea that fears a war the most at the present time. It is South Korea and Japan. Even the smallest conflict may paralyze the economy."

She emphasizes that North Korea is not pro-war. Since the incident of the South Korean warship 'Cheonan", there have been tensions in Asia. Korea International Chamber of Commerce is working hard to resolve the issue. However, the results will only be announced when confirmed. The newest plan is to work with World Food Programme of the United Nations based in North Korea to initiate humanitarian aids to local children.

"The top priority of Korea International Chamber of Commerce is to make North Korean open up its door. This will allows the world to realize that North Korea is a huge market, and also enable North Korea to know more about the international society", says Kerri Zhou.
Bill Clinton as Hero
Last August, Bill Clinton suddenly visited North Korea to rescue the two female journalists from the US. Some criticize that he did this to attract attention. Whilst he was there, he was most concerned for his own personal safety and whether he could take the two journalists back with him

After the issue of visas from the North Korean government, Bill Clinton took off within one hour. Days before, he already borrowed a private jet from a friend and got ready for the trip. However, he did not inform Kerri Zhou or Sir Eric Edward Hotung as the intermediary of his decision to visit North Korea. Kerri Zhou and Sir Eric Edward Hotung learned about this from the North Korean government and TV news, when Bill Clinton was on his way. When asked by reporters how he got in touch with North Korea, Bill Clinton said nothing about Kerri Zhou or Sir Eric Edward Hotung. Kerri Zhou says, "I think Clinton could have done a better job. I may consider other candidates next time for similar events."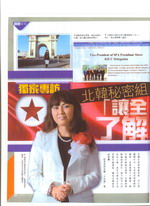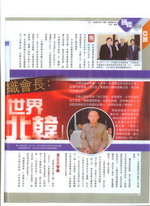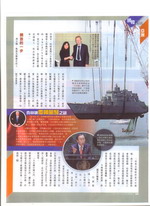 EASTWEEK NO.359 KICC Report downloads