$label_num = '1';?>
Background
The Democratic People's Republic of Korea (DPRK)
| | |
| --- | --- |
| | |
| National Flag, DPRK | National Emblem, DPRK |
Occupying the northern half of the Korean Peninsula, the Democratic People's Republic of Korea (DPRK) was established on September 9th, 1948. Its capital and largest city are both Pyongyang, and the official language is Korean. The DPRK borders South Korea along the 38th parallel to the south and shares land borders with the People's Republic of China and Russia to the north. To its west is the Yellow Sea, and to its east lies the Sea of Japan. Its total area is 120,538 square kilometers, and water makes up about 0.11%. The seacoast stretches for 2,495 kilometers, and DPRK's population is roughly 24 million. DPRK contains rich fish and mineral resources (approximately 300 types), including zinc, lead, copper, iron sand, gold, silver, brown coal and anthracite. Among them, magnesite reserves measure up to 10 billion tons, the highest in the world.
Natural Resource Reserves in DPRK
| | |
| --- | --- |
| Resource | Reserves(est.) |
| Brown coal and anthracite | 10 billion tons |
| Iron sand | 40~47 hundred million tons |
| Zinc | 4 ~ 4.5 million tons |
| Lead | 3 million tons |
| Copper | 0.8 million tons |
| Gold | 1 thousand tons |
| Silver | 5 thousand tons |
| Magnesite | 100 million tons |
| Hydraulic Resources | 10,000,000 kilowatts |
| Tidal Energy | 4,600,000 kilowatts |
Source: EIU Country Profile 2000.
Administrative divisions in DPRK are organized into two municipalities, three special administrative regions and nine provinces. Located along the Yalu River, the Sinuiju Special Administrative Region (Korean: 신의주특별행정구) was originally a part of Sinuiju. It became a region after a decree by the 10th Supreme People's Assembly on September 12th, 2002. Because of its geographic position (along the border), the Sinuiju Special Administrative Region, a port city, handles about 80% of nation-wide freight-passing volume.
Administrative Divisions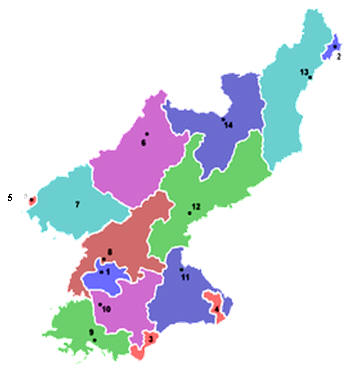 Korean

English

Municipality(직할시)

1

평양직할시

Pyongyang

2

라선직할시

Rason

Special Regions(업지구)

3

개성공업지구

Kaesong Industrial Region

4

금강산관광지구

Kumgangsan Tourist Region

5

신의주특별행정구

Sinuiju Special Administrative Region

Province(도)

6

자강도

Chagang

7

평안북도

North Pyongan

8

평안남도

South Pyongan

9

황해남도

South Hwanghae

10

황해북도

North Hwanghae

11

강원도

Kangwon

12

함경남도

South Hamgyong

13

함경북도

North Hamgyong

14

량강도

Ryanggang
The GDP/PPP of DPRK reached USD$40 billion million dollars and GDP per capita grew to USD$1900 in 2009. GDP was USD$28.2 billion, and GDP per capita was USD$1,200. DPRK contains rich natural resources, and presents a growing market opportunity with economic development potential.
| | |
| --- | --- |
| No.1 Department Store, Pyongyang. | Sunan International Airport, Pyongyang |
| Pyongyang, the largest city in DPRK | Kim Il-sung Square |
| Grand People's Study House DPRK | Pyongyang Metro |
| Arch of Triumph, Pyongyang | Yanggakdo International Hotel |
| | |
| | |
| | |
| | |
$label_num = '2';?>